IBBR - URT Metaponto
Description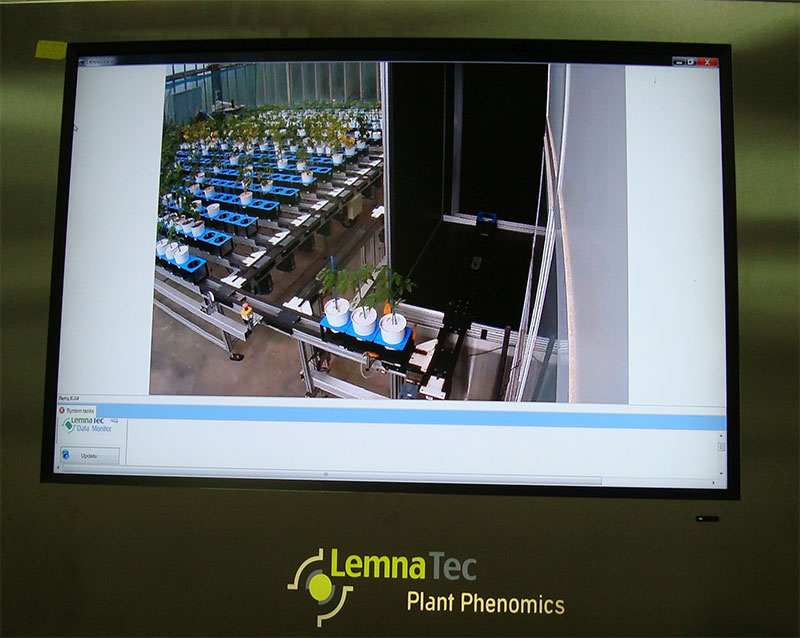 The IBBR Research Unit at Research Center Metapontum Agrobios (ALSIA) was established to consolidate the regional initiative aiming at building a green biotechnology cluster in Metaponto. The alliance between the two organizations is supported by the exchange of knowledge, skills and equipments already in place. The CNR has always been involved in basic and applied research activities, in technology transfer as well as in the training of young researchers. Metapontum Agrobios (Regione Basilicata) is engaged in innovation in agriculture and agro-industrial systems, with the main objective of transmission of the acquired knowledge. Together, IBBR and Metapontum Agrobios researchers collaborate in national and regional research projects, mainly aimed at the development and innovation in agriculture, using and sharing high qualification and cutting-edge instrumentations.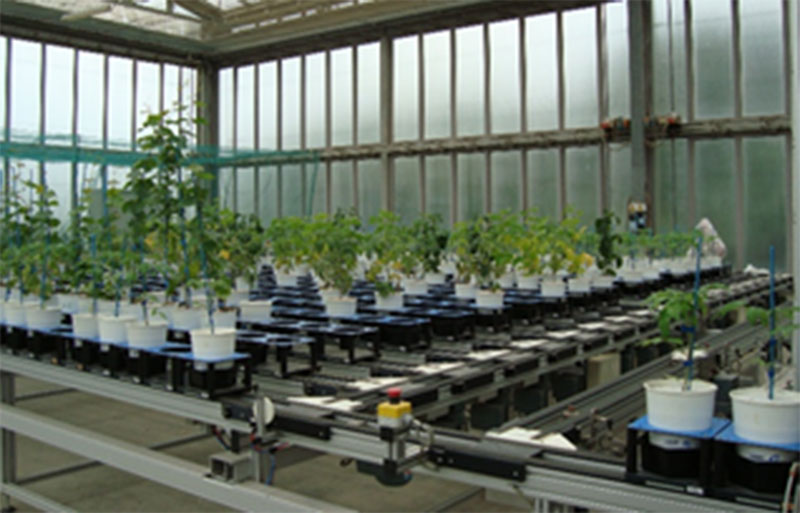 Phenotyping is a fundamental part of the process aiming at improving quality and quantity of plants of agricultural and industrial interest. In fact, it is connected to phenotypes genomic analyses or to plants performance during the interaction with environmental stimuli, either biotic or abiotic.
A better understanding of the plant / environment systems may arise through the analysis of phenotypes, allowing the possibility to set up innovative programs for crop protection from viruses, insects and diseases, and to identify varieties with improved performance, greater efficiency in resource use or new traits of agricultural interest.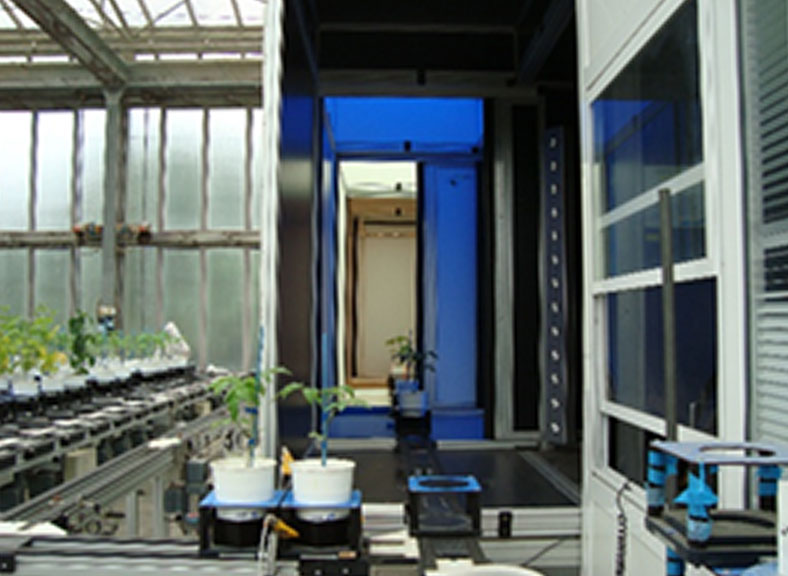 The Metapontum Research Center owns and operates an automated plant phenomics platform, the only currently present in Italy and among the few in Europe. The platform analyzes plant development through the acquisition and processing of images (3D Scanalyzer System of Lemnatec), in the visible spectrum (RGB) and infrared (NIR), detecting morphometric parameters such as the plant size, colorimetric data such as the coloring of leaves, and their water content. All this processing is automated, following a standardized policy and in the absence of operational interferences. Moreover, the Center has laboratories and equipment for cell cultures, useful in the maintenance of plant germplasm through in vitro cultures, which enable the micro-propagation, the culture of meristems and their regeneration, also useful for the varietal restoration from different types of plant diseases.
Phenotyping studies are already in place at the URT, the running projects have as their main purpose:
To investigate how the interaction with beneficial soil microorganisms (i.e. Trichoderma spp.) influences plant growth, architecture and morphology at the shoot and root level.
To measure photosynthetic performance under control and stress conditions (research group Tucci-De Palma. Species: Solanum lycopersicum L.).
To quantify differences in physiological performances under drought and salt stress conditions of mutants and traditional landraces. (research group: STRESS Lab, Grillo-Costa-Batelli. Species: Solanum lycopersicum L.).
To evaluate growth, geometry profile and physiological status of mutants for epigenetic regulators during development. (research group Conicella-Consiglio-Termolino. Species: Solanum lycopersicum L.).
Projects in progress
IBBR UOS Portici
Phenotype screening by image analysis of a mutant tomato compared with the isogenic line.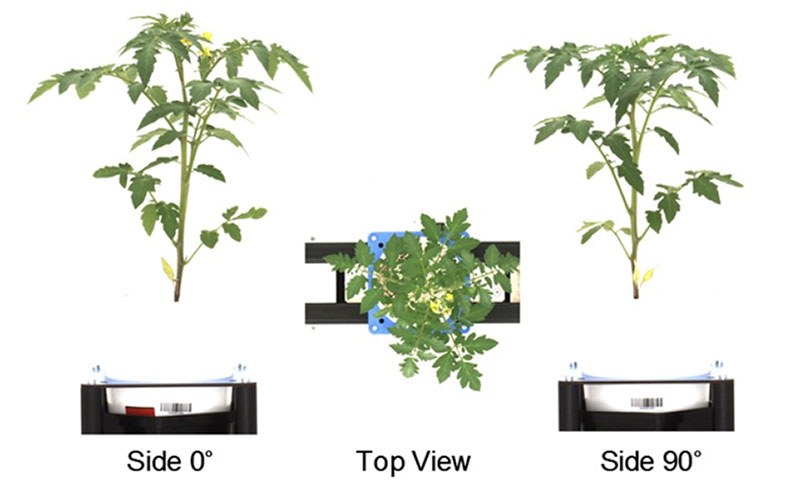 Readings and data in the visible field (RGB)
Non-destructive image analyses were carried out during plants growth, relative to the dimensional index (in pixels, three per plant), color index (in % - four color classes), plants height and compactness. Plant observation takes place laterally (RGB_side) and from above (RGB_TV), and it is possible to acquire images from two different angles (0 and 90 °). The images obtained from different angles allow the acquisition of more informations about morphology, size or biomass of the plants analyzed.
IBBR Bari
Characterization of wheat genotypes in the Single seed descent (SSD) collection subjected to water stress, with high-yield methods.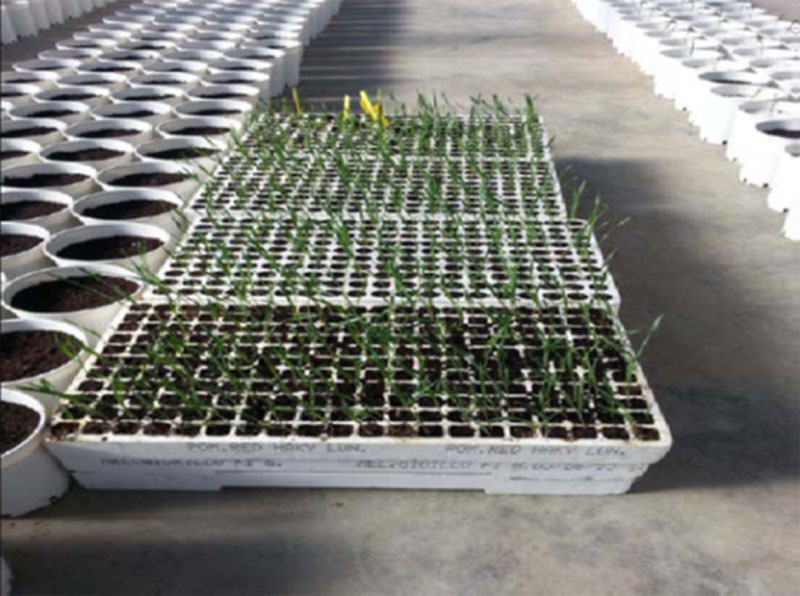 Objective: identification of genotypes (derived from old local varieties) with high efficiency in the use of water resources.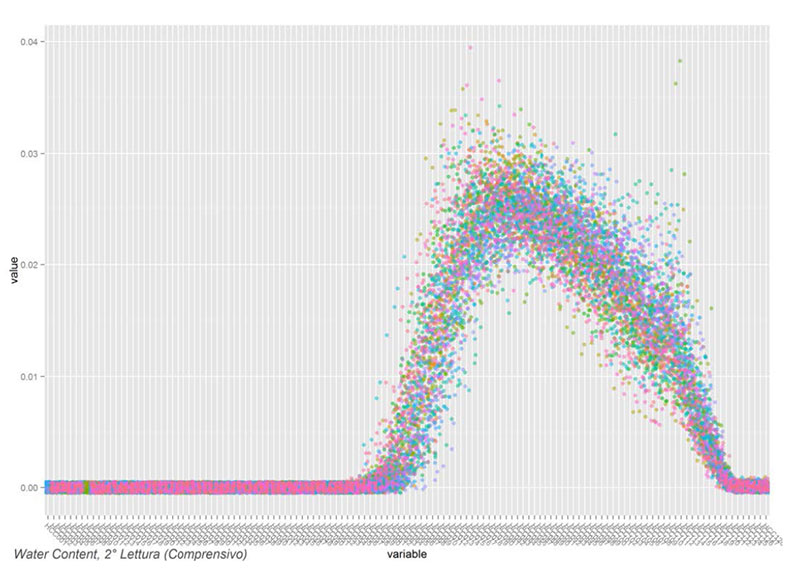 Analysis of the H2O content.
Useful Links